With cooler weather come lots of opportunities to warm up our home design. Read on for great tips on how to stay toasty this fall and winter.
One of our favorite ways to warm is by adding textile layers.
Keep optional throws and quilts out in the open by hanging them on armchairs and couches, or lay at the foot of beds. Make strong statements by using bright colors that contrast with your existing scheme. Add plush pillows or faux fur stools to instantly increase a living or family room's cozy factor. Soft materials like cashmere, cotton, flannel, and knitted fabrics with unique textures are great choices. "Oversized" knits in particular are trending. Using earthy colors for these items and displaying natural toned accents will create an inviting tone. Choosing a warm metal finish is another option –gold is especially popular this year.
Wood flooring and walls naturally keep spaces insulated and convey the feeling of warmth. No wood surfaces in your space? Add a new wood side or coffee table or seek out a wooden crate or basket to hold rolled up throws. Cover hard floors with rugs to hold warmth and warm feet.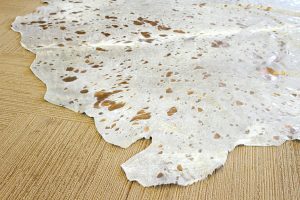 Layering area rugs is trending this fall and is a great way to introduce warmer fall colors. Start with a large area rug as a base and add a second, smaller rug – we like cowhide, sheepskin, or shag – to protect your feet from cold tile and hardwood.
If you have a fireplace, prepare it for colder days! Get a professional to check and clean your fireplace and chimney. Look for grates, screens, andirons, and tool sets that fit your personal style. Have a non-working fireplace? Set up elevated pillars or string lights around decorative items inside for added warmth.  Distribute candles around a room to add more light in darkened evenings. Their soft ambiance gives off a calming glow, relieving stress and anxiety. Since candles also add a festive element, you can keep them up through the holiday season. Adding reflective surfaces and mirrors also helps maximize light on shortened days.
Choose a few of these options and you're sure to be in for a toasty fall and winter!