Designed by Henrietta Heisler Interiors Inc.
Photographed by Justin Tearney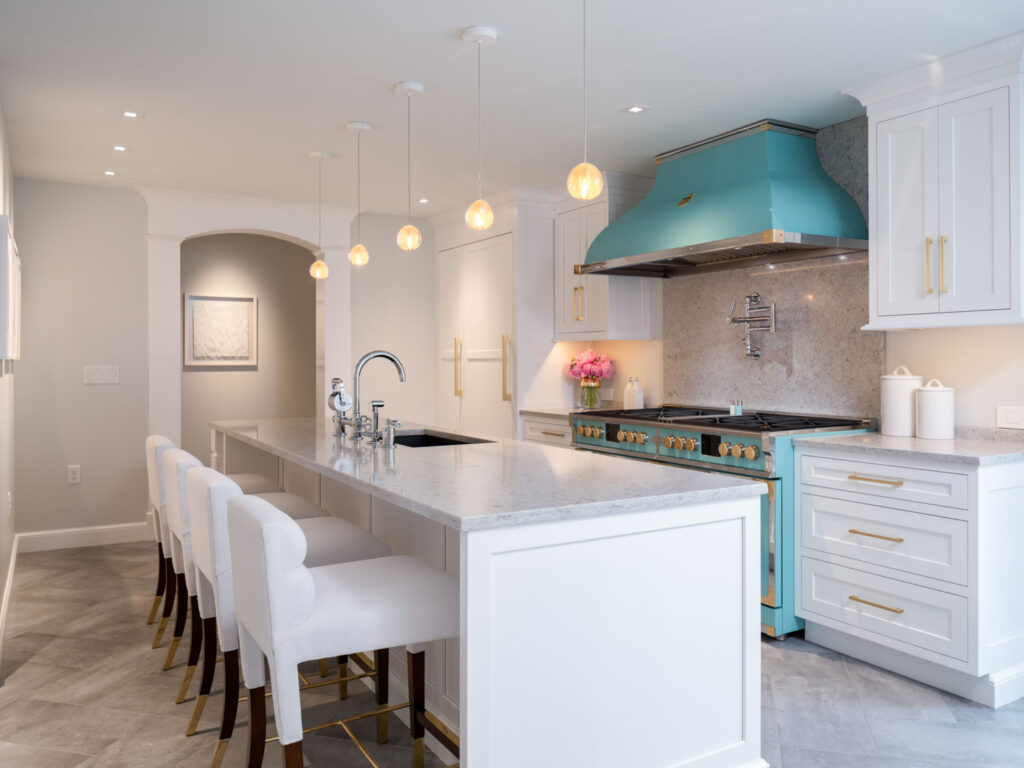 The Objective
The objective of this luxury kitchen renovation was to transform a 30-year-old, closed off kitchen into a brighter, more contemporary working triangle with excellent storage space. We worked closely with our clients to create a plan for better flow and a more sophisticated ambiance for entertaining. For this renovation we added an island to an open floor plan, utilized luxury appliance, and added direct access to the outdoor patio space resulting in a stunning transformation that exceeded or clients' expectations.
The Challenge
One of the design challenges we faced was working with minimal space. We needed to create a separation for the kitchen, which was immediately attached to the garage. By expanding into the garage, without sacrificing parking, we were able to create a mudroom and a hallway that offered direct access to the guest suite and created the separation for the kitchen we needed.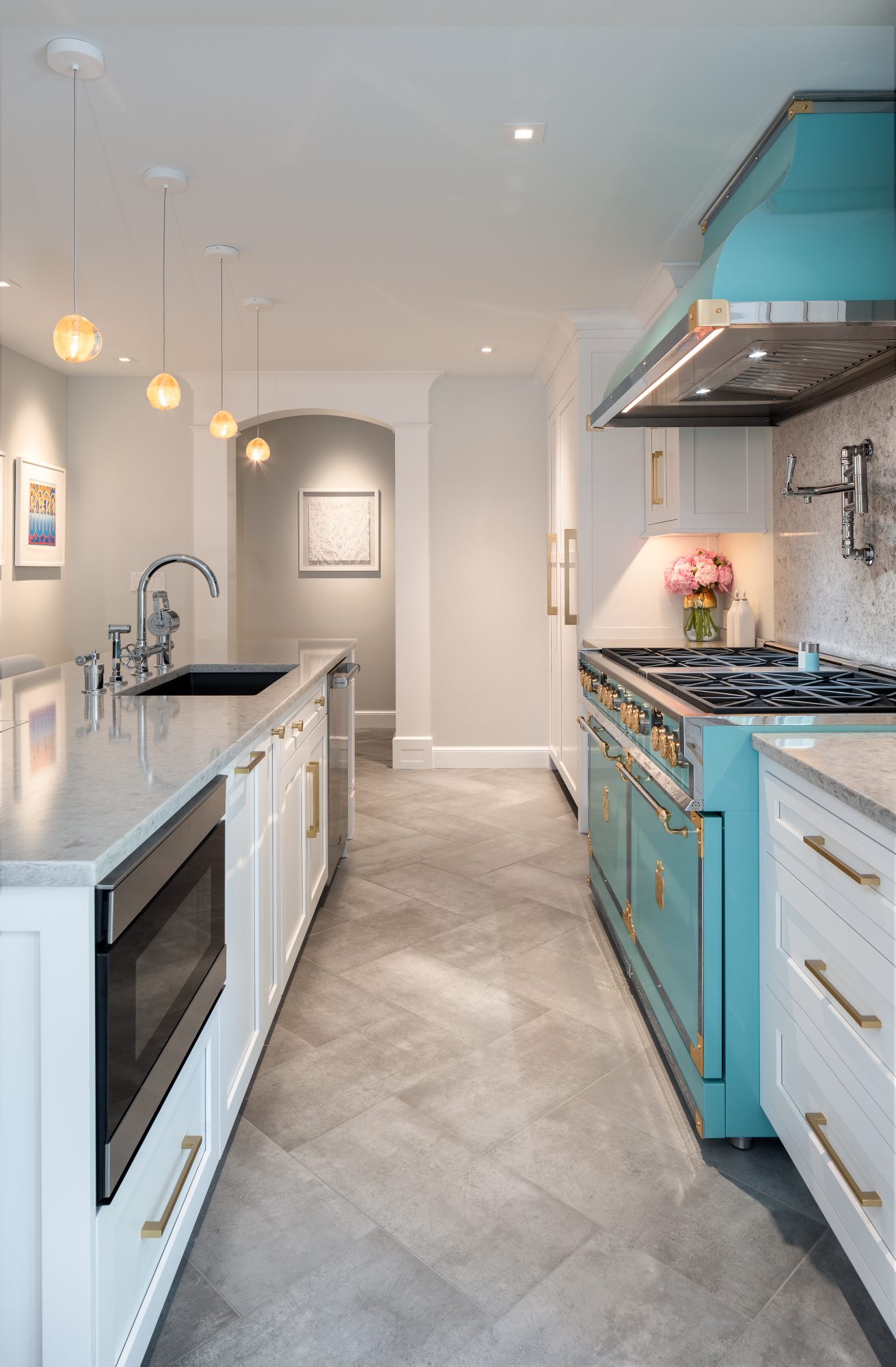 The Jewel of the Kitchen
The jewel of this luxury kitchen renovation is the Tiffany blue gas range and matching bell hood by Officine Gullo. While the nautically inspired chrome fixtures and full-height white cabinets with satin brass hardware by Lisa Jarvis brighten the space, the crown molding and inset details lend a hand to the classic interiors aesthetic.
The open floor plan and centralized island create a better flow for cooking and entertaining. Adding Pella French doors allows a beautiful path for natural light to flood the space and provides outdoor patio accessibility.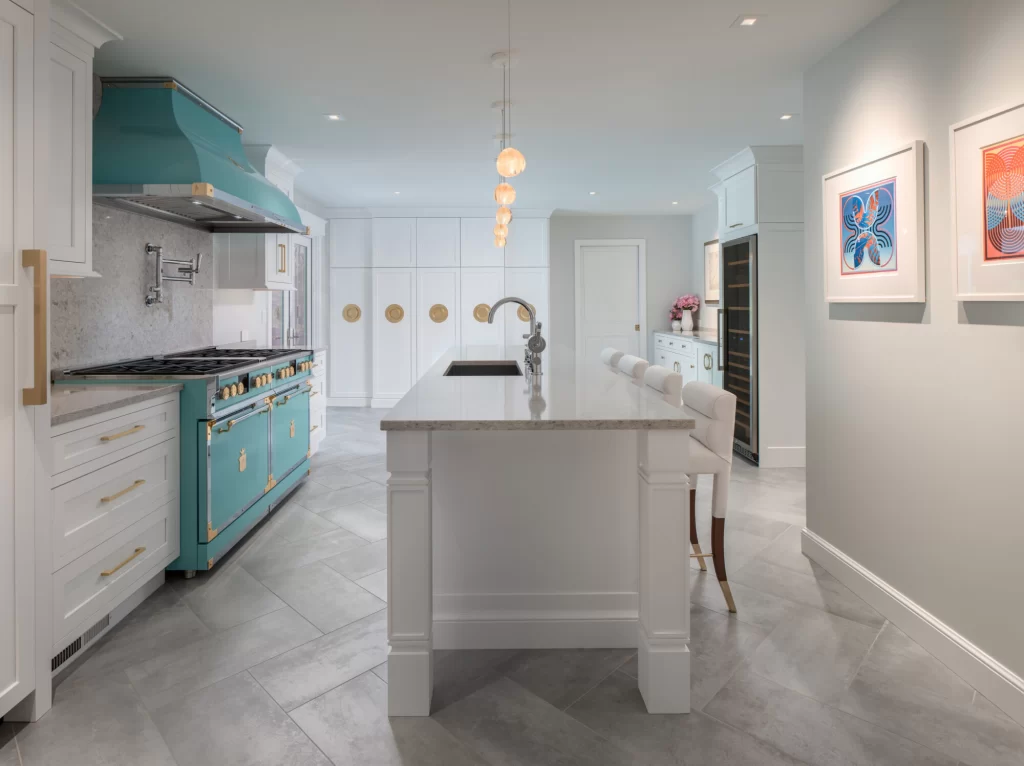 Modern Integration
The overarching goal of this renovation was "elevated ease", for cooking, seating, and entertainment. We worked with modern integration wherever we could. The lighting is fully dimmable, there are hidden electrical outlets, and the floors are heated.
The designated coffee station allows for a stress-free morning routine and the wine bar with custom stemware cabinet provides an elegant evening ritual. The custom cabinetry offers the highest level of organization, pull-out pantry cabinets that house waste and recycling, peg drawers for plates and silverware, additional storage overhead, as well as a dog bowl niche integrated within the island.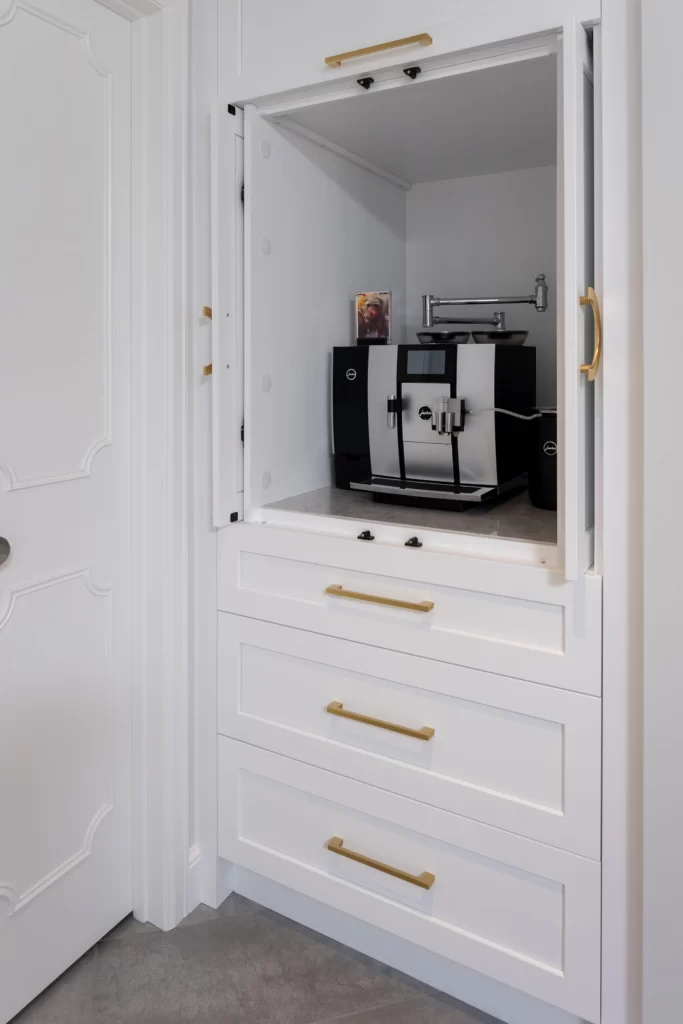 A Note from the Owners
"We moved to Lancaster from a one-bedroom apartment in Brooklyn seven years ago. We found a great house, but the project before us felt daunting. One beautiful fall morning we walked into Henrietta's studio and that has made all the difference. The HHII team helped us develop our vision into a plan, and then expertly executed with artistry, creativity, attention to detail, and professionalism. The most recent project, our dream kitchen, is yet another triumph. Their team is family now, and we cannot recommend them enough." – Damon and Efrem