The scenario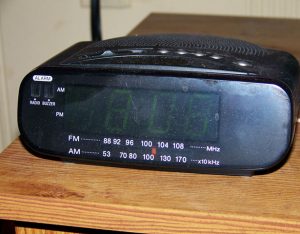 The alarm clock is screaming at you.  You hear your kids romping around.  Your significant other has already left for work.  You slowly lean up and rub your eyes.  The sun is trying to high five you, but you're unresponsive.  You leave it hanging.  It will be upset with you for the rest of the day.  You get out of bed and stumble into the bathroom.  The bathroom looks…foreign, something you have seen on the Sci-Fi channel.  Are you in another country?  If so, where is the embassy, your tiny slice of homeland?  You do not know where you live anymore.  There is clutter everywhere!  The bathroom, it seems, is the tip of the iceberg.  You tell yourself, this isn't my home anymore.  What happened to your embassy?
This is a common scenario.  Many blame the morning, i.e. I'm just not a morning person.  While that is certainly plausible, there is something else at work here.  Your home needs a makeover.  Sometimes all you need is an injection of that renovation energy.  It does not have to be a whole renovation, but even a new coat of paint or some pillows can make a big difference.  The best value is in kitchen and bathroom renovations.
The world is changing
Look, the world is changing.  Every day seems different from the one before.  The world is far from constant.  It plays your heart like a game of Whac-A-Mole.  The one thing you should be able to depend on is the sanctity of your home.  Take care of it, and it will take care of you.  The changing world affects both you and your home.  Therefore, it is wise for people to update their rooms and homes.
I suggest that the homeowner evaluates his or her home every year.  Make sure you are clearing out clutter and feeling good about your spaces.  It helps keep the value of your home current to today's market standards.  It also helps keep up your personal value.
Additionally, renovation allows you to declutter.  Creating more pride in your home. Just by decluttering your home, you are also decluttering your heart.  Away with the negative feelings!  Everyone wants to feel better, that he or she is constantly improving.  Renovating your home is a powerful step to improving your wellbeing and much personal satisfaction.
Ultimately, it all boils down to the following question: do you love your home?  Well – sure you do.  Who doesn't?  Any good homeowner loves their home; it is, after all, part of the family.  A home, however, needs upkeep to stay healthy and relevant.  It cannot go to the gym orspa.  It is up to you.  You should do your best to preserve your home.  It isn't the same house you had bought or built many years ago.  It needs a facelift.  Don't leave it drowning in the past.  It deserves better than that, and so do you.
What to do
If you are considering interior remodeling and space planning, look no further than Henrietta Heisler Interiors Inc.  You can reach us at 717-295-0324.  We work in Philadelphia, Lancaster, Harrisburg, York  and the surrounding area.  Get off on the right foot every morning in a renovated home.  Life will seem different, in a positive way.
*Image courtesy of Shari Weinsheimer
[msh_feedburner]