Do you have a pair of shoes, eyeglasses, or a jacket that others covet? Of course you do, some of us have many items and some a few. It always feels great when someone admires something you are wearing. It provides us with a sense of pride, boosts our confidence for the day, and can start a conversation.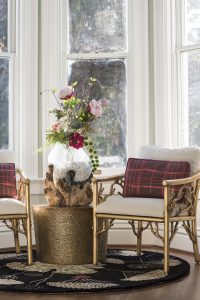 In the interior of your home or in your garden it is lovely to have one special piece, pieces or a full collection of unique items. It can be something big or small, expensive or found, but it needs to be different, a little out of the ordinary, and have a good backstory.
Typically, a piece with a story is a piece that has an emotional tie-in. Telling the story brings back a good feeling to the teller and a smile, expletive, or inquiry for more information from the listener. It will always be an enjoyable conversation starter.
I have a few unique pieces in my home. One favorite has been in my possession for over 50 years. When I was a child my parents went to Japan and brought home beautiful geisha dolls. They are exquisitely made of delicate porcelain with dainty hands and feet, elaborate realistic kimonos, and black wigs with headdresses.
When I was a child, these beautiful but fragile dolls collected dust in my doll case. Now, 50 years later, they have moved many times: from the doll case to a console table, then a bookcase, and now perfectly picture framed above my fireplace mantle. Unfortunately, they are now footless, which is how they ended up framed above the mantle!
My beautiful geisha dolls have started conversations about doll collections, travel (especially trips to Japan), childhood memories, and best of all, I still enjoy looking at them and telling the story of their provenance when people admire them.