Undoubtedly, kitchens are the heart of the home.
If you're interested in upgrading the look and functionality of your kitchen, the expert team of designers at Henrietta Heisler Interiors, Inc. are here to help. We offer kitchen and dining room design and remodeling services in the Philadelphia, Lancaster, PA, Delaware and surrounding areas. Each design is unique; we listen intently to your needs, then build the right kitchen for you and your family. We are renowned for our visually appealing and functional kitchen designs. In fact, we've won many awards for our work and it has been featured in Susquehanna Style Magazine and on Houzz.com on several occasions.
The Benefits of a Kitchen Remodel
There are many reasons to consider a kitchen remodel for your home. Not only does a kitchen remodel help modernize your home, it also increases your property's resale value when you decide to sell. Kitchen and dining areas are often asked to serve multiple purposes and Henrietta Heisler Interiors, Inc. will work with you to incorporate all the functions your home needs into your new kitchen.
Whether you want to design a brand new kitchen or dining room from scratch or want to update and modernize your current space, the experts at Henrietta Heisler Interiors, Inc. are here for you.
Areas of Service
Henrietta Heisler Interiors provides office interior design services throughout Eastern Pennsylvania with clients in Philadelphia, Lancaster, Chadds Ford, West Chester, Reading, Camp Hill, York and Harrisburg. We are also happy to serve the surrounding regions Including Delaware and Maryland.
For more information regarding the interior design services we offer, contact us today at 717-295-0324 or info@hhinteriorsinc.com.
We look forward to helping you!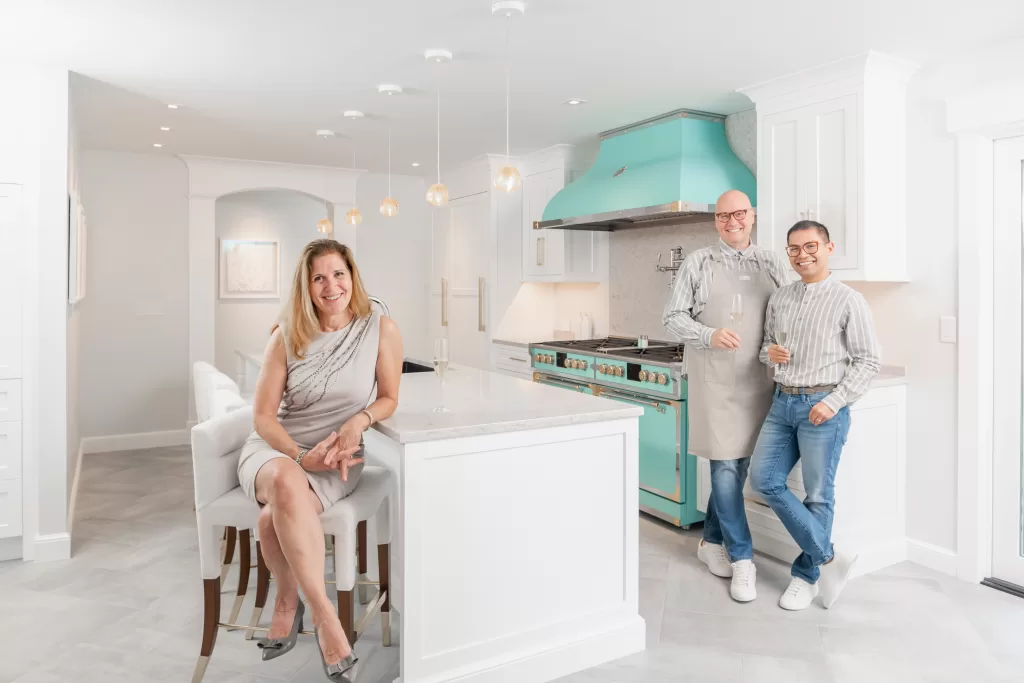 Henrietta Heisler with Homeowners Demon and Efrem. This Kitchen design won 1st place for the People's
Pick Kitchen Award at the NKBA Design + Industry Award Show in Las Vegas this year.