There is no single item that creates a great design, but color seems to be the most  personal and has the most immediate impact. The colors you choose produce an emotional reaction – in you and in all those who enter your space. Choosing the right colors does not have to be complicated to be effective. This year we are highlighting the many colors of the spectrum, to help you choose what speaks to you the most! Our first choice is red.
Is red the most powerful color in the spectrum? It is the most physical and passionate color, activating senses as our brains act or react to it. It is the color of the heart, red roses and the setting sun; bringing up the strongest emotions. Bright reds are energizing, courageous, assertive, adventurous, demanding and motivating. The brighter the red, the bolder the statement and stronger the emotion.
Each variation of red produces a different set of feelings: light pinks and roses feel sweet, romantic and nostalgic; darker reds exude richness, elegance and luxury; brick reds are earthy, warm and solid; hot pinks and fuchias feel exciting, playful, hot, high-energy and stimulating. What feelings do you want to evoke in your rooms?
Red is the great attention getter of the color world, and can push out other colors with it's strength. It must be used thoughtfully so that it doesn't come across as too aggressive. If you are drawn to red, try using it as an accent first – it can be a fantastic pop of color in a neutral or dark space. Try patterned red fabrics on a set of chairs or, if you want to make a bold statement, test it on an accent wall!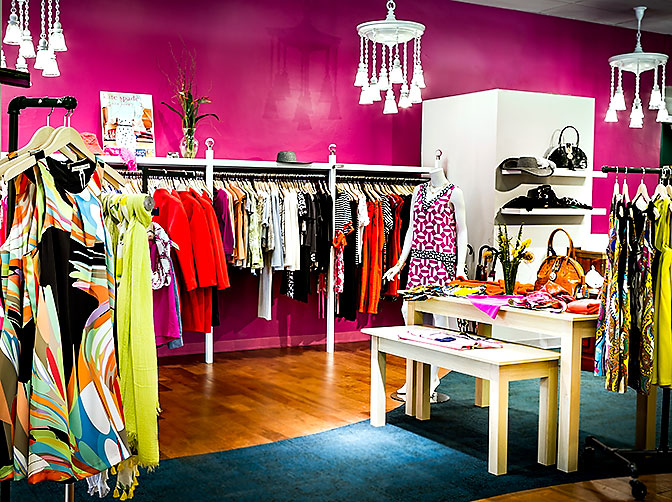 SHOCKING PINK: THE NEW RED? Hot pink is always modern! Its brightness adds warm energy everywhere it touches. You can't help but be happy when in the newly renovated TMB Clothing & Fine Jewelry Store in downtown Lancaster, PA!
Hot pink, burgundy or bright fire-engine red, no matter which variation you choose, remember red's powerful nature when designing your spaces.
We would love to collaborate and find colors that inspire your interiors. To schedule a color consultation, call us: 717-295-0324 or email: hhinteriorsinc@aol.com.