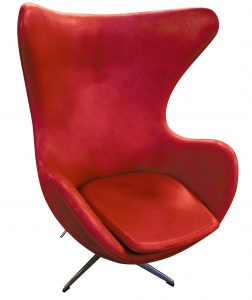 I was recently in upstate NY and found myself gazing into a cool vintage shop, thinking I spied an original Egg Chair, a Mid-century modern furniture piece designed the year I was born by Danish architect Arne Jacobsen. What a find!
Mid-century modern furniture is known for its sleek, simple lines, ode to nature and clever designs. This design style reached its peak in the mid-1950s through 1960s. It is still so popular due to its' beautify, functionality and ability to go well with almost everything.
People often ask, "How long will it still be in style?"  It has maintained popularity for 50 plus years. Originals or knock offs can be found all over, you can dress it up, dress it down, use a little, or a lot… and why?  If a design works and looks good, then it is always in style. And Mid-Century modern looks good and blends well with many styles.
Mid-century-modern-inspired pieces are versatile. Use one or two pieces without having to rethink a whole room. It is well suited for a mix-and-match look. Anyone can appreciate its flexibility. The light materials, slender frames and casual attitude gives the eye a rest. This style furniture or accessories are simple, informal, functional and fuss-free.
Sofas and chairs from this time period have low-to-the-ground silhouettes and fit well in small rooms and urban spaces. The lighting designs, from floor to table lights, to chandeliers, are sculptural enough to double as art, yet function remains paramount. I find the lighting from this era to be striking and universal and I love the new interpretations.
Finding and purchasing an original mid-century piece is a prize. It may be a costly investment, or you could get lucky and find one at an auction, garage sale or grandmas. Knockoffs and reinterpretations are everywhere and will also give you "the look". Pro tip: Invest in one authentic signature piece to anchor your space, then layer it with others that complement the look. These do not need to be true to the period. By combining yesterday's influence with today's design, you'll truly have the best of both worlds.