We are absolutely thrilled to announce that our interior design company has been awarded first place at the NBKA Susquehanna Valley chapter for our breathtaking, opulent bathroom design. Valued at an impressive $150,000+, this luxurious bathroom is the epitome of lavishness and comfort, showcasing an array of exquisite features that redefine the concept of indulgence.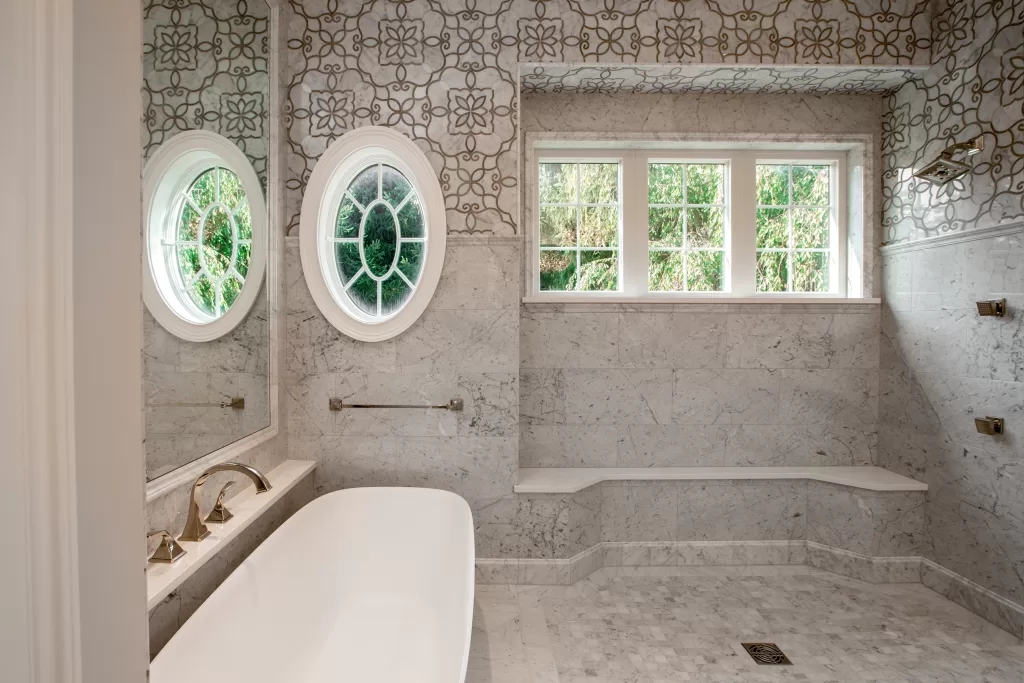 Elegance in Marble:
The foundation of this luxurious masterpiece lies in the extravagant use of marble. Its presence exudes sophistication and timelessness, adorning the floors, walls, and various elements throughout the space. The veining and textures of the marble create an ambiance of pure refinement.
Sconces and Chandeliers:
Every corner of this resplendent bathroom is adorned with carefully chosen lighting elements. Sconces delicately accent the walls, providing both functional and ambient illumination, while the pièce de résistance—a large crystal chandelier—hangs majestically above, casting a mesmerizing glow and adding an extra touch of luxury to the space.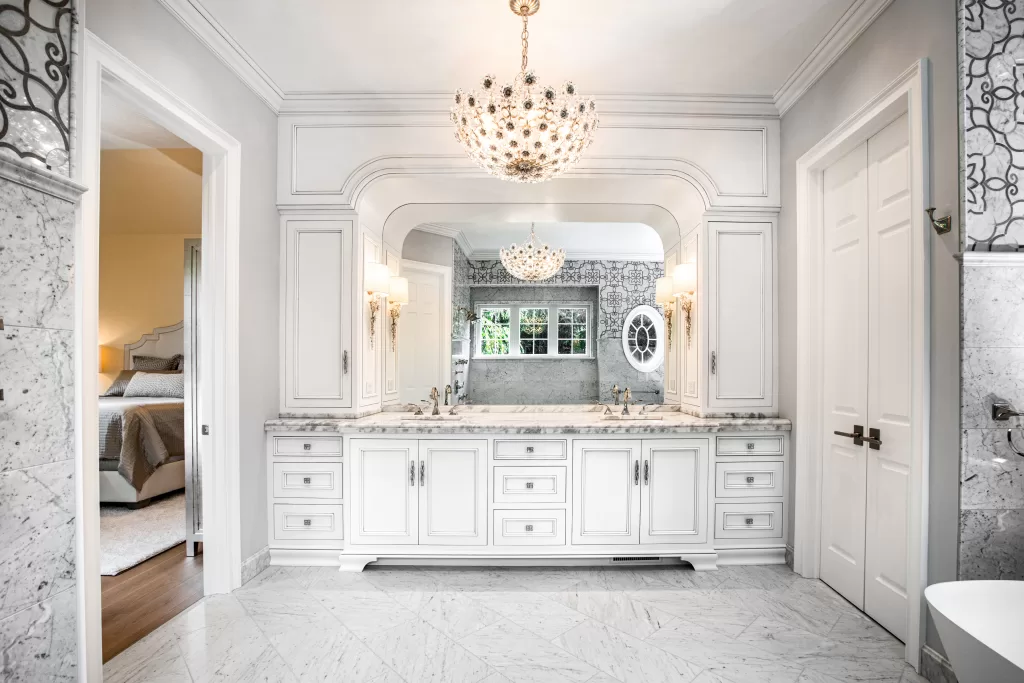 Innovative Design:
The design of this bathroom goes beyond the ordinary, featuring a seamless combination of elements. A free-standing tub takes center stage within a walk-in shower, creating a spa-like experience that seamlessly blends relaxation and practicality. The vanity is expansive, offering ample storage and countertop space, meticulously crafted to complement the overall aesthetic.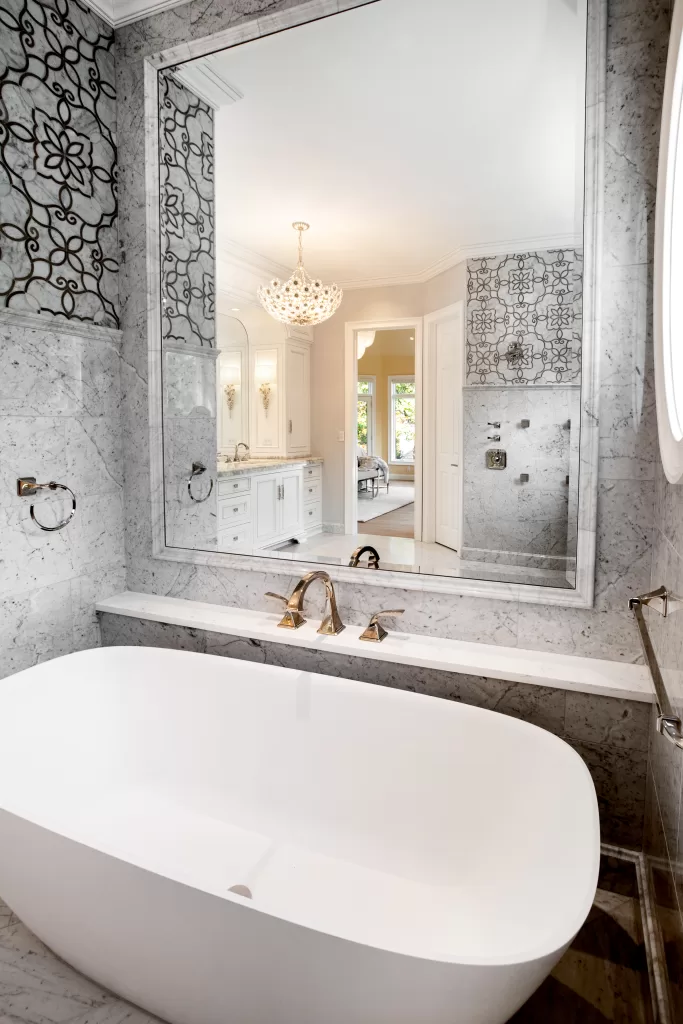 Natural Light and Views:
A key aspect of this design is the strategic use of round, large windows that invite natural light to cascade into the space, creating an airy and inviting atmosphere. The picturesque views outside serve as a picturesque backdrop, offering tranquility and a connection to the outdoors.
Artistry in Mosaic and Stone Inlay:
The intricate mosaic with a stone inlay work is a true testament to the artistry that went into crafting this space. It adds a layer of detail and visual interest that captivates the eye, inviting appreciation for the finer details of the design.
Comfort and Convenience:
In addition to its grandeur, this luxurious bathroom also prioritizes comfort and convenience. A thoughtfully incorporated seating area within the tub area ensures moments of relaxation, adding a sense of indulgence to the bathing experience.
This award-winning bathroom design is a testament to our commitment to excellence in interior design. It represents a harmonious fusion of opulence, functionality, and innovation. We take immense pride in creating spaces that not only reflect the epitome of luxury but also offer a haven of comfort and serenity for our clients.
The recognition by the NBKA Susquehanna Valley chapter serves as a testament to our dedication to pushing the boundaries of design and creating spaces that redefine luxury living. We look forward to continuing to exceed expectations and deliver exceptional design experiences for our clients.
Thank you for joining us on this journey of luxury and elegance. Stay tuned for more inspirational designs from our award-winning interior design team!