With a gamut of design trends constantly shifting and morphing, we are sharing a few of our favorite design trends that can withstand the test of time and will keep your interiors relevant.
When it comes to design trends, our Residential Interior Designer, Jena Murphy recommends starting with subtle details and design elements as a trial. By adding a touch of paint or a new accessory you can play with these design trends while keeping with the overall aesthetic of your home.
1. Bringing The Outdoors In
Utilize neutral colors. Soft tans, deep greens, blues, and a range of browns all compliment a natural living space.
Use organic shapes and natural textures. Bring in plants and foraged elements from the landscape nearby. Allow the view through your window to be the inspiration for your interiors. Even city dwellers can utilize this design queue, creating a seamless color transition from inside out.
Maximize your window space to take advantage of any natural lighting you receive!
Work with sustainability, prioritize energy efficient lighting and appliances.
Don't forget to take the indoors outside as well! Outdoor living spaces are a beautiful way to extend your homes footprint.
2. Colored Appliances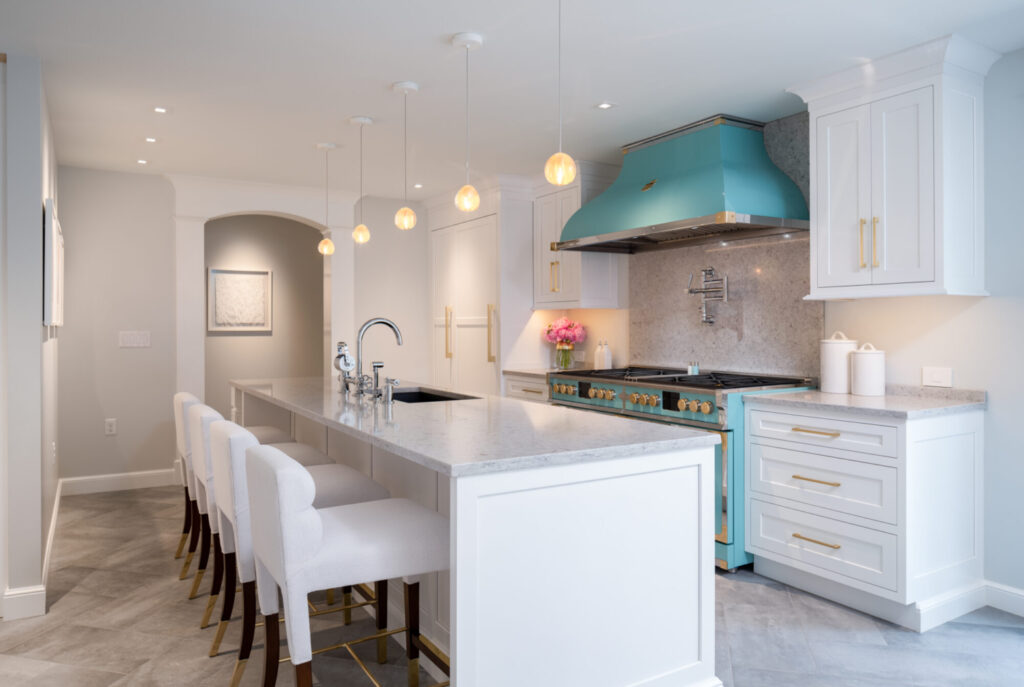 Along with wallpaper and paint, adding colorful appliances is a new and exciting way to personalize your space.
With brands like Officine Gullo at the forefront of this design trend, more economical brands like Smeg and Samsung are offering a range of bespoke appliances. We are seeing a shift from the standard stainless steel to white glass, light blues, and beiges.
Classic black is still an exciting choice, but navy is taking center stage in the kitchen this year.
3. Utilizing Unique Wallpaper
Adding wallpaper to a powder room or an accent wall in a dining room is an excellent way of playing with patterns and combining texture to create an interesting perspective.
The progress of wallpaper is constantly pushing boundaries and delivering innovative experiences. The textures and materials available now compared to the past are truly remarkable.
Murals as wall coverings, especially scenic murals, are very popular right now.