At Henrietta Heisler Interiors, Inc we take time to understand our client's needs and find personalized, creative and innovative design solutions.  We recently had an out-of-state client who bought a very dated home on a beautiful lot. They felt that the home could be renovated and hired us after reading positive reviews on Houzz.com. The kitchen, family room and dining room were our main concerns.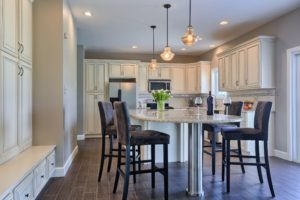 This family has four children and three dogs which required very practical measures in our space planning and finish selections. The kitchen lacked storage, work surfaces, and any casual seating. We also needed to incorporate a locker system for each of the children's school items and outerwear. After assessing the current layout we redesigned the space providing a large island with seating for six, individual lockers for each child with docking stations for computers and phones and double the kitchen storage. Not only did we create a beautiful kitchen, but practical as well. We also removed walls and enlarged openings to allow the dining and family rooms to be integrated into this main area of the home.
The house was originally painted Easter egg colors of yellow, purple and aqua. We replaced this with various shades of warm grays. We provided an updated fireplace wall which integrated texture and coordinated all of the colors. Since the first floor is a high traffic area, we replaced the outdated flooring with new wood-looking ceramic tiles – which is beautiful, practical and ties together all of the rooms on that level. We also replaced all of the carpet on the second floor with the same concept in mind.
Lighting is a critical element in updating a home. We replaced the dining room and entrance foyer lights and added new lighting over the kitchen island. This really added to the wow factor. We made all of these choices through emails, phone calls and two short meetings!

This renovation was a great experience for our team and our client! Our client wrote us the following thank you note: "Dear HHII team, Thank you all so much for all you did to make our new house a beautiful home. We were so lucky to have your talents, industriousness, and kindness on our side. We will always be grateful for all that you have each done for our family." The feeling was mutual! This client was so pleasant to work with. They trusted us, responded in a timely way, and managed the unexpected expense of having to replace all of their rotted windows (discovered when painting).

Many thanks to my fantastic team, the main contractor Richard Morse and his team at Remodel Lancaster, and our photographer Justin Tearney.

Keep an eye out for more exciting projects from Henrietta Heisler Interiors, Inc! We love to be part of improving spaces that enhance work and life – residential, commercial, big or small. While in Lancaster stop by our design studio and showroom and/or call us to learn more about our interior design services.

717.295.0324  |  www.henriettaheislerinteriors.com  |  Studio & Showroom: 217 W Walnut St, 2nd Floor