This compact Jack and Jill Bathroom won second place for Secondary Bathroom Category at the 2023 NKBA Professional Design Awards.
Designed by Nichole Hollinger for Henrietta Heisler Interiors Inc. Photographed by Justin Tearney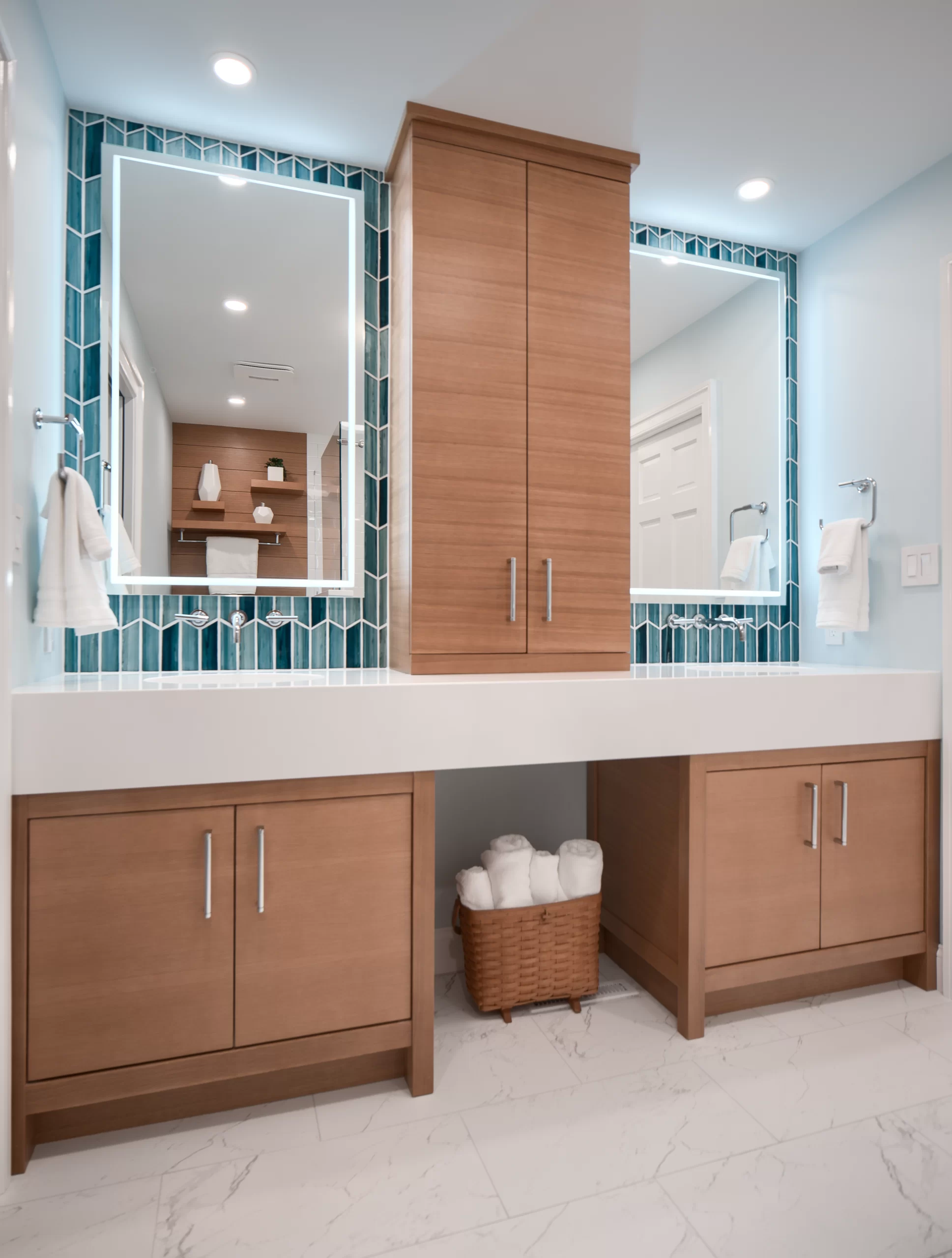 The objective for this compact 85 square foot Jack & Jill Bathroom was to provide updated functionality and a visual experience for the homeowner.
The main design challenge of this project was working with a compact floorplan. Apart from being dimly lit, the bathroom had inefficient storage and the original layout was difficult to maneuver. The swinging entry door and linen closet were infringing on too much valuable floor space and the commode and shower drain plumbing conflicted with the structural floor joists.
By turning the commode, and just clearing the structural joist below, we were able to provide generous space for a beautiful glass-enclosed walk-in shower with a linear drain. By removing the soffits, we elevated the visual appearance and provided more uniform and efficient lighting. We also removed the existing linen closet and designed ample linen and toiletry storage in the vanity base with upper cabinetry. We increase the amount of usable space by replacing the swinging entry door with pocket doors.
By improving the lighting, adding a glass shower, removing inefficient storage, and turning the commode we were able to open this 85sq ft. bathroom and create an exciting visual experience for our client.
We designed the custom wood-stained vanity with generous storage, an internal make-up area, and mitered apron front quartz for the countertop. The decorative tile backsplash has wall-mounted faucets and LED back-lit mirrors. The custom, wood-stained, slat wall behind the commode offers floating shelving and a towel rod. The glass walk-in shower is complete with a corner bench, and large vertical functional and decorative niche, with chrome fixtures.