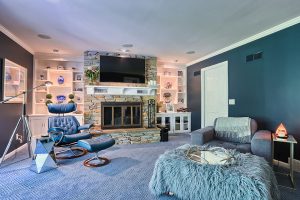 When an accent wall is done correctly it can be a wonderful design feature, creating a focal point and accentuating existing architecture. Unfortunately, it can be hard to choose the correct wall and we have seen more than a few homes with a randomly selected accent wall that does not benefit the room's design. Below are a few tips for creating an accent wall that is right for you.
The point of an accent wall is to draw attention to one thing that you want people to focus on when they first enter your space. It is important to select the right wall. One of the first rules is to let the existing architecture be your guide. For instance, a wall with a fireplace is a great choice since it is usually already accented, has depth and is often textured, and most furniture arrangements face the fireplace. Other areas that create excellent accent walls are small nooks, the back wall of a built-in bookcase or the bookcase itself, an existing brick or textured wall and the wall that anchors a bed. An accent wall can give the illusion of size. The room can look wider, longer or higher depending on the accent wall's placement.
The ceiling can also be considered an accent wall, especially if it has crown molding or another type of architectural detail.
I suggest using a paint color that is in contrast to the rest of the walls in the room. If most of the walls are dark, choose a lighter color; if light a darker one. This contrast creates interest that draws the eye to the space. Make sure to select a color that enhances the other wall colors. Applying a faux paint finish or wallpaper are both great ways to establish your accent wall.  Adding mirrors as an accent definitely makes a room look larger. Placing a striking piece of artwork will also help the viewer to be drawn to the highlighted area.
The decision making and planning is the hardest part, but if you need a quick change to bring an existing space to life, adding an accent wall is a quick way to do so and is an excellent choice for a weekend project!