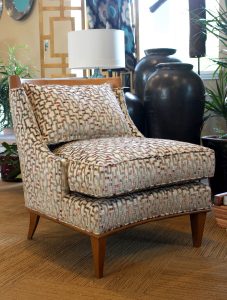 At various furniture trade shows, we've seen a mixing of everything: colors, styles and texture. Carefully mixing period style antiques with transitional pieces is a great look and is trending. The newest designs are copies of old world furniture made modern with a multitude of colors, glossy finishes, and unique hardware. Mixing styles allows you to update without requiring a complete redesign. Straight lines are still trending but the introduction of these legacy pieces is a nice change.
Texture is very important as it adds interest and it is being incorporated with tufted furniture, patterned rugs, and wall accessories with dimension. Nail heads have reappeared in a variety of patterns on all types of furniture: upholstered, cabinets and table edges. Adding texture and interest with faux finishing is trending on walls, ceilings and furniture. It must be done well so I suggest selecting a professional. Lucky for Lancastrians, we have tremendously talented faux finishers in the area! If you're looking, check out @TomHenman on social media!
The 2017 Pantone® color of the year, "Greenery," is trending as predicted, in combination with vibrant navy blue. Blue has replaced black (a prediction I made 2 years ago!) and looks great with "Greenery". Other trending colors are pure white, grey, blush and light caramel, while saturated colors are making a comeback, starting as accent walls, piping on sofas, and colorful pillows. This may seem confusing, but think about our "colors of the year" article which included soft shades and rich, bright colors, all found in nature. Grey is forever popular and looks great with anything: bright colors, jewel tones and other muted colors. Remember you can add color with rugs and accessories.
Since technology has opened up many doors, laser cutting is gaining popularity. Cutout patterns can be seen on door and bed panels, seating, and screens.  Mixing metal, wood and fabric to create furniture is also trending. Hardware has made great strides, most likely due to 3-D printing. New knobs can quickly update a kitchen or dresser on a limited budget.
Lighting choices have exploded. Today's chandeliers are a quirky way to add interest and bring a dining room or foyer into vogue. Changing bedside lights can really update a space. The variety of price points and quality of furniture, lighting and rugs are endless.