A new year is here and color forecasts are plenty. One thing that all 2018 color forecasts seem to have in common is the movement towards rich, intense, and fun colors instead of pastels as seen in recent years.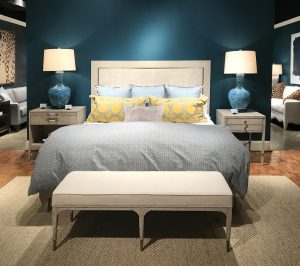 Benjamin Moore has selected Caliente, a strong, energetic red. It is a versatile color, conveying romance, and warmth. The palette built around it includes a variety of red tones such as Cherry Wine and Texas Rose plus smokey grey neutrals and a golden yellow called Golden Retriever. Overall the scheme feels modern, powerful, fun, and sophisticated.
Alternately, Behr has selected In the Moment as its color of the year. It is described as a "cool, tranquil, spruce blue and is a soothing, restorative coalescence of blue, grey and green. " The theme surrounding In the Moment is all about mindfulness and relaxation. Though many of the colors in the palette are blues or neutrals, a few bright colors take the stage: Life is Good (a bold orange), Constellation Blue (a dark, dreamy blue) and Spirit Warrior (an orangey red).
Sherwin Williams 2018 color of the year is another intense choice. Oceanside is a deep, bright blue-green, inspired by travel. It looks fantastic with gold, white, brown, and other bold colors. It speaks to our increasing wanderlust and desire to be more globally connected.  If you went to the Pineapple  Manor Showhouse it was used in a glossy finish in the master bedroom.
Industry color forecasting leader Pantone has released their 2018 home and interiors, and fashion reports. We can see from color choices such as Meadowlark (a confident bright yellow), Cherry Tomato (an orangey, energetic red), and Ultra Violet (rich, complex purple), that a variety of bold colors will all be trending. The Home + Interiors Report predicts eight palettes will rule the year including a contrasting scheme of blues and oranges, and an earthy scheme of celery with purples and eggshell blue.
Pantone's 2018 Color of the Year was announced as Ultra Violet – a rich, intense, invigorating purple. "A dramatically provocative and thoughtful purple shade, PANTONE 18-3838 Ultra Violet communicates originality, ingenuity, and visionary thinking that points us toward the future.", states their website. Read more about Ultra Violet here: https://www.pantone.com/color-of-the-year-2018.
We are in for a year of exciting, eclectic and unusual color combinations. We can't wait to see how the forecasted colors are used!